Associated with opulence and pageantry since the 18th century, Champagne has been the wine of celebration for ages. Louis XV issued a decree authorizing its bottling (as opposed to traditional casking), Voltaire dedicated an ode to it, and Napoleon held it in great regard (partaking of it even in defeat) - making it the drink of those larger than life; a beverage of legendary repute.
It may be the history, as well as the exclusivity, that provides Champagne with its notoriety. It may also be the eponymous and distinctive terroir after which this superior wine is named. Only grapes grown in the delimited wine region of Champagne, France are used to create the ultimate bubbly, which obtains its characteristic fizz after natural yeast fermentation occurs in bottle.
In addition to the locale, a strict regulatory framework governs the creation of Champagne from fruit to wine. This framework also includes the following rules on varietals, vine maintenance, limited yield and extraction, alcohol content, vinification method, and bottling period. Specifically:
• Use of only Chardonnay, Pinot Noir, Pinot Meunier, Arbane, Petit Meslier, Pinot Blanc, and Pinot Gris 
• Chablis, Cordon de Royat, and Guyot methods for short pruning 
• Limited grape yield per hectare
• Limited grape extraction of 102 liters must per 160 kilos of grape
• Minimum alcohol levels by volume per annum
• Dedicated vinification and storage areas for Champagne
• Use of the natural winemaking process Méthode Champenoise
• Minimum 15 months bottling prior to shipping
The long history of the celebrated and celebratory beverage has birthed many great Champagne houses. One such estate has risen to international prominence by paying homage to a noble grape varietal and employing organic winemaking processes to focus on the expression of the fruit in creating its own premium sparkling wines.
In the vineyards of Urville in the Southern part of Champagne lies Drappier, which was founded in 1808. Current patriarch André Drappier, with his wife Micheline, created the Champagne Carte d'Or Brut in 1952. The 'carbon neutral' estate spans over a hundred hectares of vineyards, more than half of which is certified organic and most of which is devoted to a single noble grape varietal.
Maison Drappier's Champagnes are built around the primary varietal Pinot Noir. The character of the fruit presented front and center, the flavor as natural and authentic as can be, as there are minimal sulfites and sugars involved in the natural winemaking processes.
Today, André's son Michel and daughter-in-law Sylvie have taken the reins of the family-owned winery. The patriarch's grandchildren Charline, Hugo, and Antoine work alongside their parents, helming various business aspects such as marketing, viniculture, and oenology. Together, the family continues to innovate and strive to perfect their wines — never losing sight of the Champagne legacy, the heritage of Maison Drappier, and its vision of award-winning, reasonably priced, high-quality wines.
Drappier wines are bone-dry and savory, the flavors built around true expression of the fruit. The minimal sugars and sulfites also mean there is little to distract from the expression not only of the fruit, but the pressing and winemaking as well. Across the range of wines is a characteristic minerality that complements the intrinsic softness and roundness of each layered sparkling wine.
Maison Drappier has produced many amazing wines through the years. To best understand the tribute to authenticity of the estate, here are some offerings iconic of the Drappier style:
Rich and aromatic, this brisk Pinot Noir-based Champagne evinces notes of apple, melon, and red fruit, and some grape and quince jelly. The long, full-bodied wine obtains its smooth texture and some peripheral aromas – such as brioche, hazelnut, and wood smoke – from the cuvée's maturation in oak.
Made of eighty percent Pinot Noir, with the rest comprising Pinot Meunier and Chardonnay, this elegant and uplifting wine is silky and round on the palate despite its fruit-forwardness and slight pungency. This complex wine is great value for money, and provides you with a solid introduction to the house of Drappier.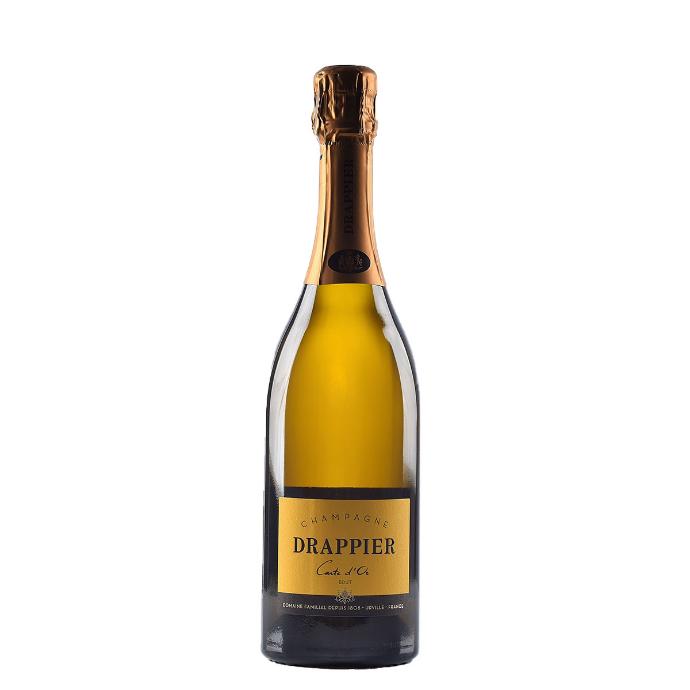 Fine aromatic richness, opening with aromas of stone fruits such as white vineyard peach. A spicy hint announces a powerful and complex palate. A vinous Champagne of vinous complexity with a characteristic note of quince jelly. Ideal as an aperitif. Best paired with white meats, rolled fish fillets, Chaource cheese.
Made from cuvées (juices from the first pressing), this bubbly owes its true fruit flavor in part to the gravity method used in vinification. Said method does away with mechanical pumping and reduces oxidation, thus allowing for minimal sulfite use. Though unfiltered prior to bottling, the cuvées are aged for two to three years with lees, which refines and tempers the forward fruit.
This multi-faceted champagne satisfies with its smooth and crisp texture. A tangy wine with a refreshing melange of fruit, flora, nut, and spice, it has an underlying minerality and a subtle grassy aroma that lends complexity to the drink and an interesting backdrop to the forward notes of lemon, elderflower, lily, hazelnut, plus exotic mango and coconut.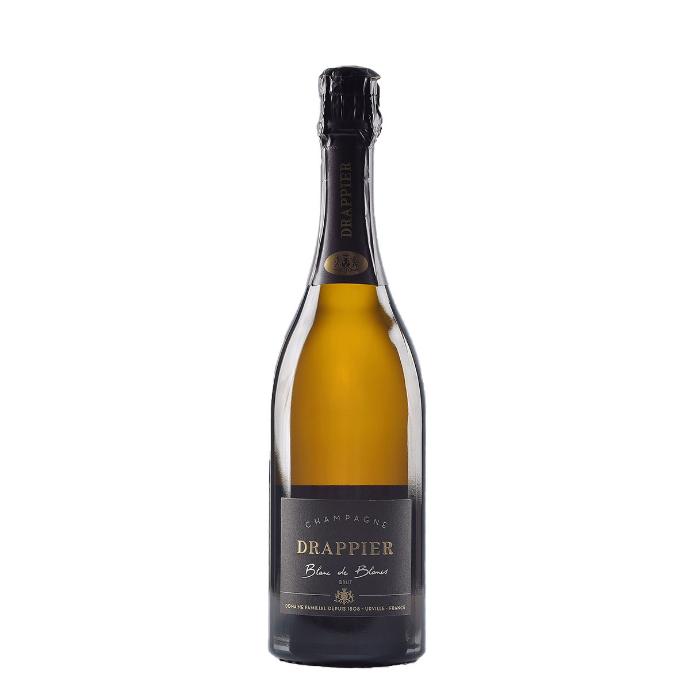 The nose brings to mind white peach and pears but also more floral notes such as peony. On the palate it is supple, creamy and seductive with notes of mineral and hints of light biscuit.
This elegant, bone-dry white is pure and compelling, with its highly aromatic blue fruit notes accented with herbs and spices and rounded out by a slight salinity. This creamy wine exudes Pinot, and is punchy on the palate because of its tannins and an engrossing bouquet that includes nectarine, plum, cassis, and pastry flavors. 
A taut Champagne known for its purity, this is a low-sulphur wine with no added sugar that can be drunk fresh or cellared for two to three more years.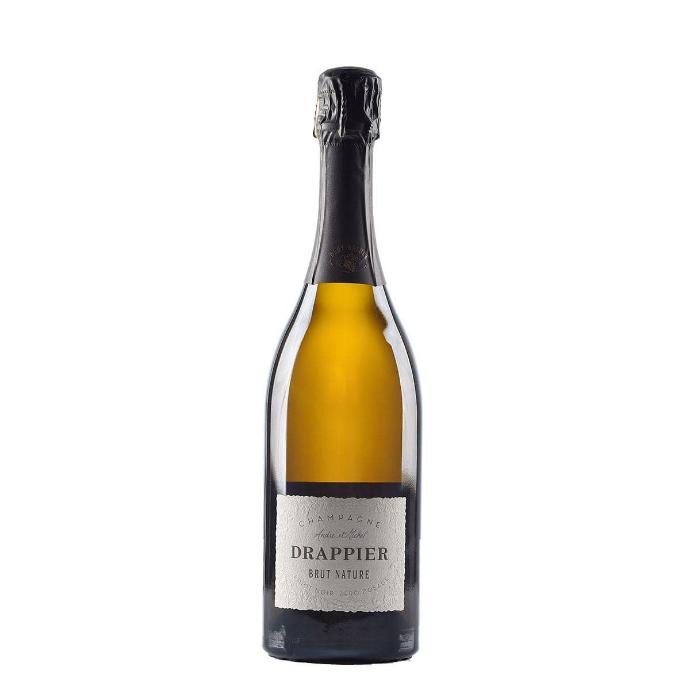 A pale yellow champagne with small and constant bubbles. It boasts a complex and intense aroma of mature white fruit. The palate is soft and BONE DRY (no additional dosage) but elegant. Specially recommended for toasts, celebrations, and light meals.
Made from a blend of sixty percent Pinot Noir, ten percent Pinot Meunier, and thirty percent Chardonnay all grown in Premier Cru and Grand Cru vineyards, this is yet another exceptional, great-value Drappier offering.
Fresh and crisp yet opulent, this wine expresses flavors of peach, pear, apple, lemon peel, hazelnut, and brioche. This worldly wine is rendered more indulgent by its creamy mouthfeel and excellent body, all underpinned by the trademark pleasant acidity of Champagne.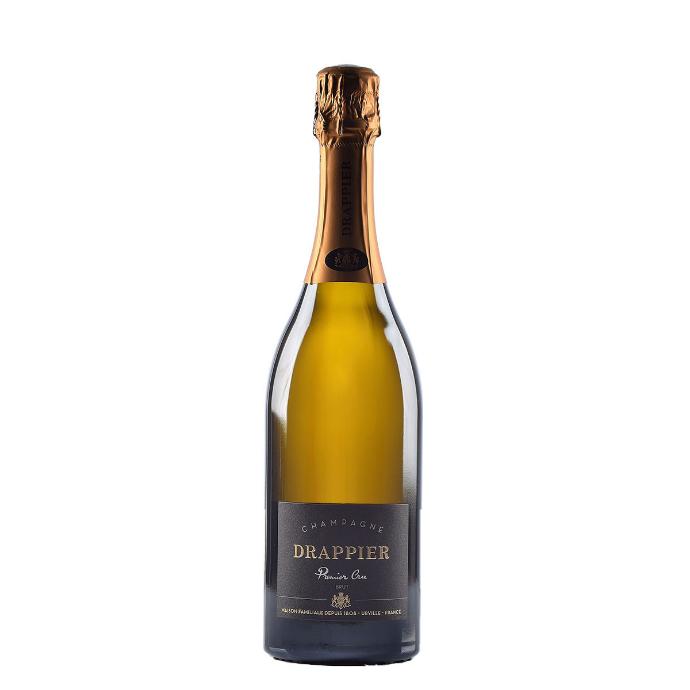 A champagne with a lovely golden color and aromas of biscuits and flowers. Weighty and concentrated but fresh. It is wonderful on its own or with cheeses and light appetizers.
A fire which ravaged Urville in 1838 gives this vintage its name Grand Sendrée, from the cinders (cendrée) covering the small plot of land upon which the vines lay. The conflagration is also said to have charred the soil and given this wine its unique smoky characteristic.
A bright and sophisticated wine, the Grand Sendree's creamy texture is redolent with dried cherry, mandarin orange, and cassis accented by the smoke and a briny minerality. It has a lingering, comforting finish of chopped hazelnut and toast.
The Grand Sendrée is produced in limited quantities. It comes in a replica of a 13th century bottle unearthed in the cellars of Urville.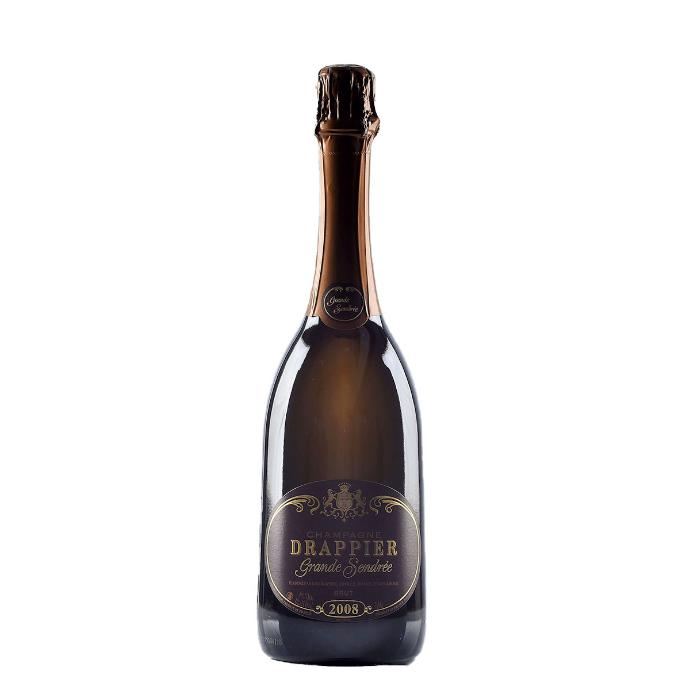 This champagne has a pale yellow robe with topaz nuances. Hawthorn blends with acacia honey, beeswax and marzipan. When it is aerated, the wine shows some quince jelly meets raspberry jam and alternates with bergamot and warm brioche. On the palate it is invigorating, imposing and it teases the taste buds. The bead caresses and balances wild strawberry jam with ripe blood orange. This harmony is extended in a delicate minerality and a lovely bitterness in which hints of mandarin orange come through. Ideal as an aperitif. Goes perfectly with bouillon of crayfish and grapefruit, poached turbot with sauce hollandaise, scallop carpaccio, rack of lamb with foie gras, creamed Bresse fowl with truffles and mountain comté that's at least 18 months old.
Available for delivery within Metro Manila.
Origine is the exclusive Philippine importer and distributor of Champagne Drappier.