A remarkable number of the world's most coveted wines are made from Noble Grapes. These are specific grape varietals used to create wines associated with history, ageability, and notoriety. 
Noble Grapes are highly sought after, as they can be vinified into exceptional wines and blends (almost) wherever and whatever the terroir. However, these noble grape wines seem trivial compared to the thousands of wines available the world over. 
If you want to explore these and other varietals to find the wines that suit your unique taste, personality, and mood, use this primer on the characteristics of Noble Grapes and other grape varieties when establishing your own wine space.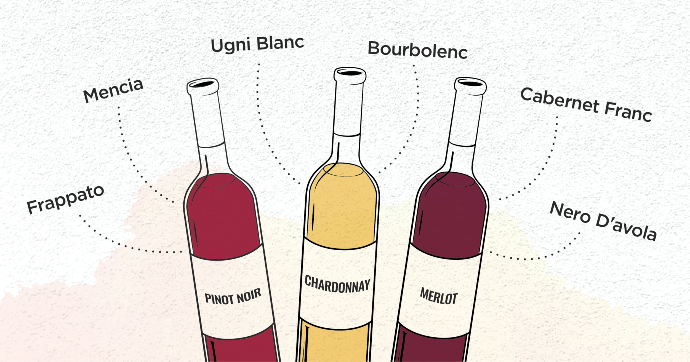 Malbec has black fruit, pomegranate, raisin, and plum fruit flavors accented by chocolate, pepper, and tobacco notes. The oak aging can impart flavors of coconut, dill, vanilla, as well as a smoky finish. Malbec can be intense, complex, and rich, especially in the case wherein the grape is cultivated on bush vines and not trellised.
If you like Malbec, you might enjoy Pinotage or Tannat.
Fruits like boysenberry, blueberry, and blackberry are up front in Syrah. There can also be tobacco, smoke, and leather to play up the carnation, rosemary, violet, and other floral notes. Other peripheral aromas include spices such as vanilla, pepper, clove, allspice, and rosemary. There are also savory accents like bacon fat and cured meats present in these medium-tannin, medium-acid wines.
If you like Syrah, you might enjoy Monastrell or Pinenc.
One of the most popular full-bodied wines in the world, the tasty and balanced Cabernet Sauvignon finishes long and slow. Oak aging gives it depth and earthiness, while high acidity and tannins make the flavors of black fruit and herb last long on the tongue alongside vanilla, toast, and smoke. 
If you like Cabernet Sauvignon, you might enjoy Touriga or GSM Blend.
Tempranillo is hearty and earthy, with woodsy, leather, and herbaceous aromas that complement the fruit flavors of cherry, plum, and fig. This grape has medium to high tannins and medium to low acid, resulting in medium to full-bodied wines with a lingering taste and smooth finish.
If you like Tempranillo, you might enjoy Graciano or Mourvedre.
One of the lighter red grapes, Nebbiolo has a surprisingly savory taste and pleasant levels of acid and high tannin. Aside from general red fruit and rose aromas, the other flavors of this grape include cherry, anise, coffee, and a brazen earthiness.
If you like Nebbiolo, you might enjoy Mando or Nerello Cappucio.
The tasty and highly aromatic Sangiovese has bold tannins and high acidity. The fruit flavors of this grape include fig, plum, and strawberry. Other aromatic notes include accents such as thyme, oregano, and potpourri, as well as smoke, tobacco, clay, and leather.
If you like Sangiovese, you might enjoy Montepulciano or Barbera.
The vinification process can turn Merlot into a bold or light red wine with medium to low tannins and a supple mouthfeel. Throughout that range, Merlot is typically smooth, with oak-instilled notes of vanilla, mocha, and tobacco to punctuate its black fruit and red fruit flavors.
If you like Merlot, you might enjoy Cabernet Franc or Nero D'avola.
Another candied red grape like the Malbec, Grenache is smooth and fruity - thanks to the oak aging that helps mellow the medium acid, tannins, and high alcohol. It has strawberry, raspberry, and cherry fruit flavors complemented by notes of cinnamon, anise, citrus rind, and tobacco.
If you like Grenache, you might enjoy Cinsault or Carignan.
This is the lightest of all red Noble Grapes. The thin-skinned Pinot Noir can be demanding to cultivate, but its low tannins and overall finesse make the extra toil worthwhile - it has a silky texture and medium acidity. The bright fruit notes of the grape include blackberry, raspberry, and cherry, which play nicely with funky notes like leather, game, and mushrooms, plus the deep earthiness imparted by oak aging. 
If you like Pinot Noir, you might enjoy Frappato or Mencia.
Possibly the most famous white varietal, Chardonnay makes dry, well-rounded white wines that range in acidity from high to medium. Unoaked Chardonnay is fruit-forward, tangy, and light. Oaked Chardonnay is complex and full-bodied. This wine can have orchard fruit, tropical, and citrus aromatics, smooth butter, vanilla, and honey notes, and a flinty, saline minerality.
If you like Chardonnay, you might enjoy Ugni Blanc or Bourbolenc.
Viognier creates medium to full-bodied perfumed white wines. There are primary fruit notes of mango, peach, and tangerine, and floral notes like honeysuckle. When oak-aged, the grape also exudes vanilla, clove, and nutmeg, and develops a creamy, rich taste. Drier Viognier wines have a reduced fruitiness, and a hint of floral bitterness that can be likened to the taste of fresh rose petals.
If you like Viognier, you might enjoy Pinot Blanc or Rousanne.
Sémillon's primary fruit flavors are orchard fruit and tropical. These include unripe papaya, pear, apple, and lemon. The grape has a waxy mouthfeel, often described by wine writers as lanolin. The difference in terroir can turn the grape into a citrusy, creamy wine or a zesty palate-cleanser. In hotter climes, Sémillon exhibits more of a tropical fruit flavor. In cooler ones, citrus becomes more apparent, as do floral aromas.
If you like Sémillon, you might enjoy Trebbiano or Marsanne.
Gewürztraminer makes off-dry white wines with medium body, high alcohol, and medium to low acidity. These wines have citrus (grapefruit and tangerine) and tropical fruit (lychee) notes, as well as the floral aroma of roses and a gingery spice. The intense lychee note of the grape is often one of its "tells" in blind tastings. Pricier wines from this grape can also have an exotic smokiness like that of burning incense.
If you like Gewürztraminer, you might enjoy Malvasia or Vouvray.
Light-bodied, sweet Moscato abounds with citrus and orchard fruit flavors: mandarin orange, Meyer lemon, peach, and pear among them. The distinctive floral aromas of honeysuckle and orange blossom come from linalool, a compound also present in citrus flowers, mint, and cinnamon.
If you like Moscato, you might enjoy Romorantin.
The versatile Chenin Blanc can make sparkling wines, dry white wines, and smooth oak-aged wines that taste like Chardonnay. Chenin Blanc can have tropical, orchard fruit, and citrus notes, and various floral and herbaceous accents. The vinification process can even give the wine unusual notes such as cheese rind, sake, and hay. Oak aging can also give the grape unique dessert-type aromas, such as brioche, Graham cracker, and buttered popcorn.
If you like Chenin Blanc, you might enjoy Fiano or Vinho Verde.
Sauvignon Blanc creates punchy and herbaceous white wines. The dry, light to medium-bodied wines are high in acid, but moderate in terms of alcohol. Grapefruit, honeydew melon, gooseberry, peach, and passionfruit count among its main fruit flavors. The general "green" aromatic of the grape – the pea, asparagus, and bell pepper, and grassy notes – comes from a compound called methoxypyrazine, also found in the Bordeaux family of grapes.
If you like Sauvignon Blanc, you might enjoy Friulano or Verdicchio.
Riesling yields intensely aromatic, high-acid wines that can range from sweet to dry, with main orchard fruit notes of apple, pear, nectarine, and apricot. There are also notes of citrus peel, jasmine, and honey. Light and crisp Rieslings can have offbeat aromas like petroleum jelly, plastic, or kerosene, which occurs due to a compound called TDN that naturally develops due to the grape's exposure to sunlight. 
If you like Riesling, you might enjoy Silvaner or Etna Bianco.
The lightest white grape cane be vinified into three basic types of Pinot Grigio: fruity and dry, fruity and sweet, and mineral and dry. Winemakers usually associated this varietal with fruity and dry wines that have the primary flavors of peach, lemon, and apple. In this category, the wine is less acidic and oilier in mouthfeel due to the addition of bacteria post-alcohol fermentation - this mellows the taste of sharp acids.
If you like Pinot Grigio, you might enjoy Albariño or Pinot Blanc.